July 9, 2023

Rehearsals for Hillside are going great !!   
I've got  a great band !
Joe Dunn (Guitar), Arun Pal (Keys), Jonny Sauder (Drums) and Scotty Fitzpatrick (Bass)
Hope to see you Saturday , July 29th at The Island Stage at 12:55 !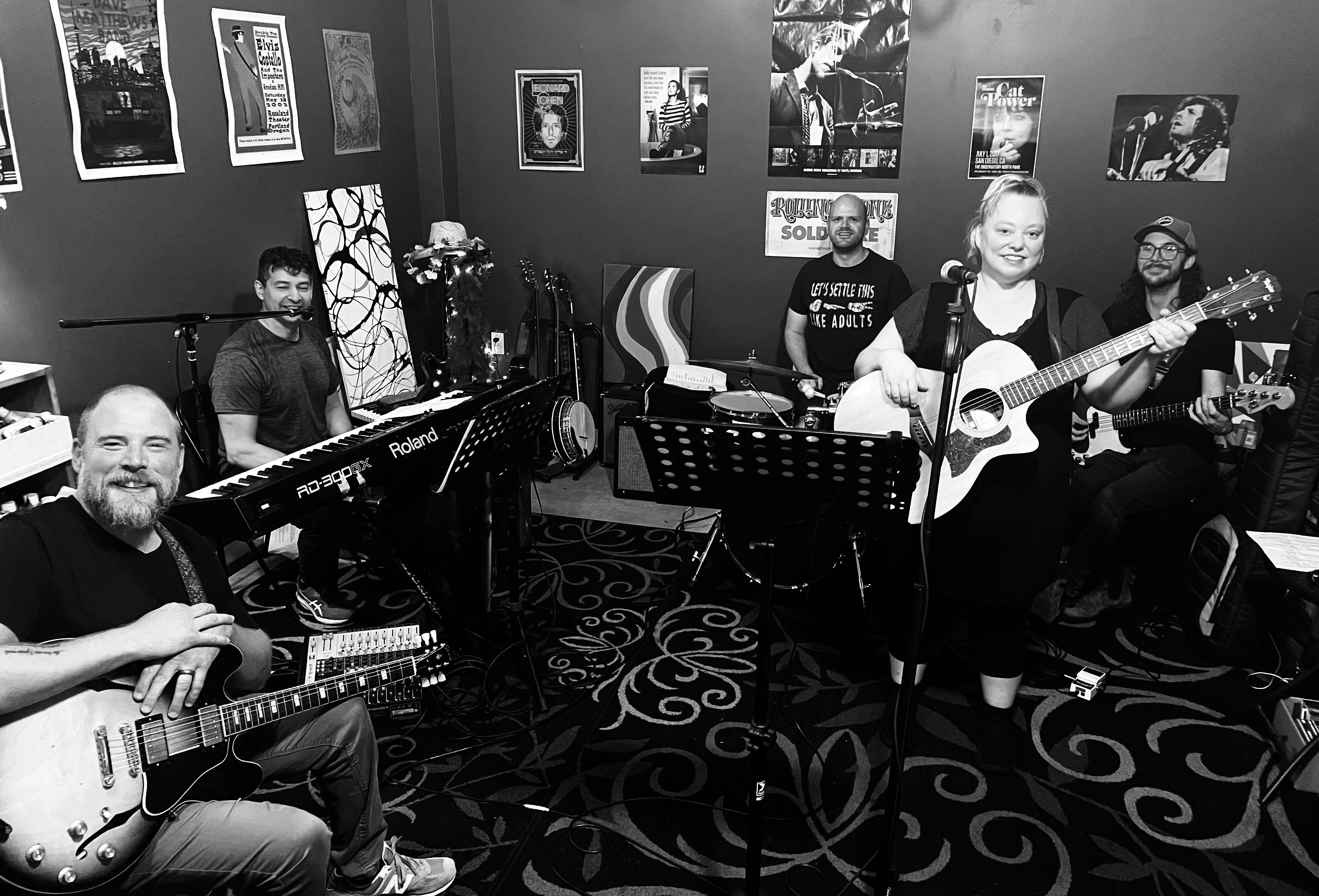 June 25, 2023

Hi folks !
Hope you are enjoying the summer !
I am hard at work rehearsing with the band for Hillside !
Someone just sent me this nice review by Michael Barclay for my album 'Follow That Fire'.
I'd never seen it before and it's always great to read a positive review by a really well-respected music journalist.
You can read it here !
If you haven't read Michael's recent books, check them out !  They are both excellent !!
Have a look here and here !


April 14, 2023 
HILLSIDE FESTIVAL! 
I am excited to announce that I will be performing at Hillside Festival in Guelph this year with my band ! 
I played the fest back in 2007 and I'm really looking forward to returning on July 29, 2023. 
My talented backing crew consists of: Arun Pal, Joe Dunn, Scott Fitzpatrick and Jonny Sauder. The lineup looks great - and there are a bunch of local artists performing this year ! 

We are on at 12:55 on The Island Stage !!
For more details, check out: hillsidefestival.ca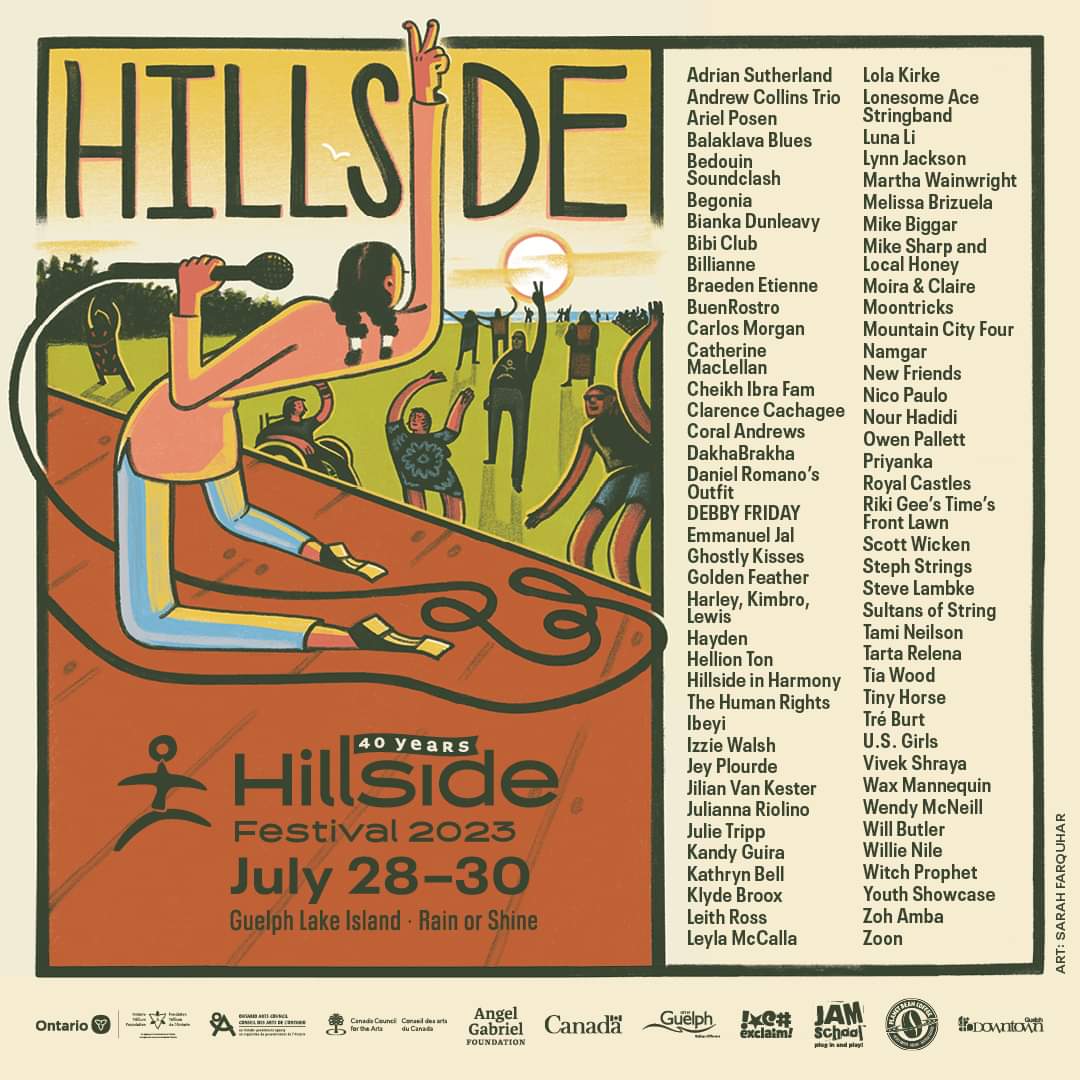 April 13, 2023 
LEONARD COHEN TRIBUTE 
Happy Spring everyone ! 
It's been a long winter, and I've been continuing to play music whenever possible and have been doing lots and lots of painting ! 
In other news, my good friend Claire surprised me recently and took me to see the Leonard Cohen exhibit at the Art Galler of Ontario (AGO)! It was fantastic and the short films were very moving. 
The exhibit offered people to share their stories of Leonard Cohen and his inspiration - and I did just that ! The AGO has a section on their website connected to the exhibit where people could submit their stories. I submitted the tribute song and lyrics I wrote for him on the day I had heard he had passed. 
I'm very thrilled to say, the AGO put my story/lyrics as the second story on a page of many !  You can view it here !
Take some time and listen to some Lenny soon - melt into that low, raspy voice and those masterful lyrics ! 
More news is on it's way soon! 
Cheers everyone:)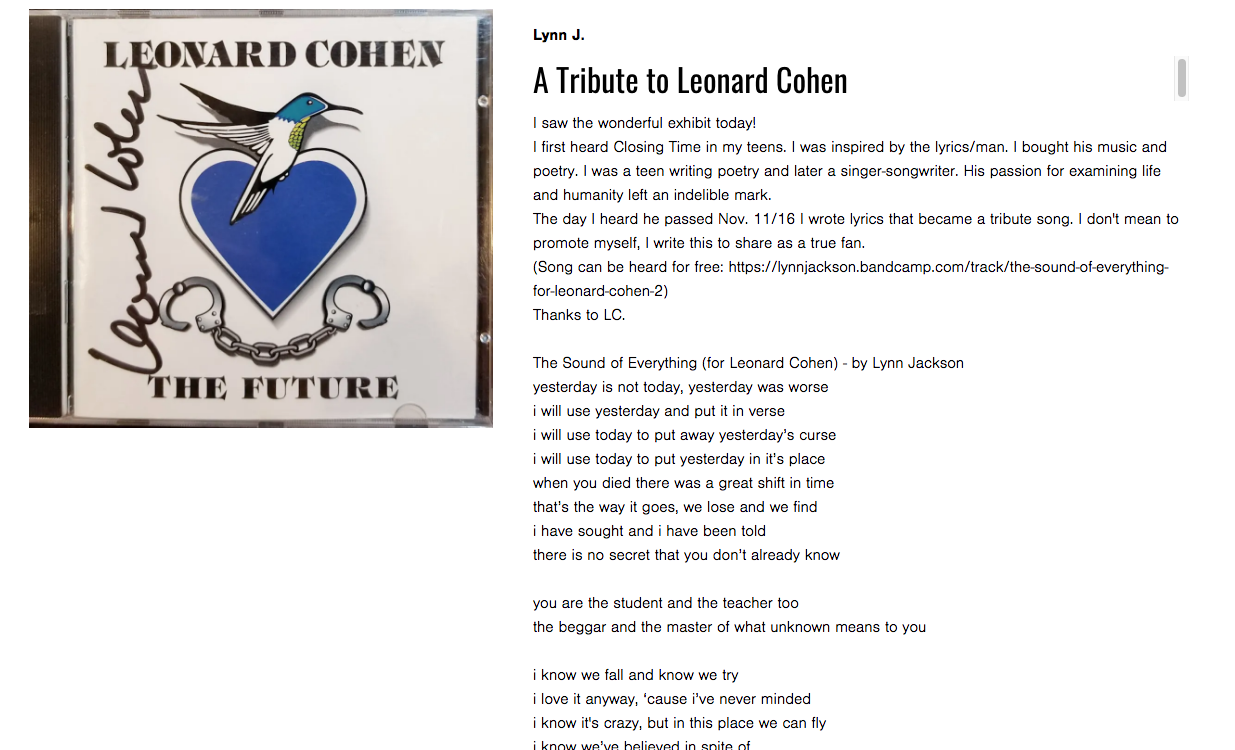 May 2, 2022
'My long-time good friend Eric Volmers, a talented arts writer for the Calgary Herald, has written a piece on my new album, I Am Only the Moon, and a bit of a career restrospective. Eric did it as a favour as I reach the milestone of 20 years recording. Please have a look - big thanks to Eric.'
 
It may be tempting to think that Lynn Jackson was consciously giving herself songwriting challenges when it came to her newest release, I Am Only the Moon. 
After all, it contains her first yuletide song, Christmas In the Dark, and a galloping Celtic-hued number called I'm Awake. Then there's The Wrench, a bluesy tune that has the singer-songwriter talk-singing an existential tale told from the point of view of a wrench in a toolbox. They could all be interpreted as an artist taking some stylistic and/or lyrical off-road excursions after amassing a impressive canon of songs over the past two decades. 
Jackson admits writing The Wrench began as an experiment, at least when it came to narrative point-of-view. But, as with all her work,  the end result can hardly be seen as a lark. 
"I thought 'You know, this funny little experiment is kind of working,'" she says, in an interview from her home in Kitchener-Waterloo. "All the lines I was writing down, you can relate them to real life." 
 So even if it did start as the songwriter "just being silly," the song did end up possessing some impressive gravitas. Backed by bluesy slide guitar by Joe Dunn and keyboardist Arun Paul's perceptive organ runs, she sings "Between the sudden endings and the cruel, cruel drama things are coming to light. But ya kept building things higher and higher. Soon yer gonna block out the sky."    Christmas In the Dark, meanwhile, is a mournful ballad about loneliness that seems all the more haunting when placed in the context of pandemic lockdowns. It hardly seems like a cynical grab for the easy sentimentality found in many holiday songs. 
"I didn't set out to write a Christmas song," Jackson says. "My process is that I'm usually practising for a show or just playing my guitar and singing in either my kitchen or studio space. I'm not thinking of writing songs or I'm just listening to music on my stereo and inspiration just hits me. I get an idea and pick up the guitar and usually start writing the words first. With the Christmas song, I actually wrote it on Christmas eve 2020. The Christmas eve of the pandemic.  I had a nice day hanging at home, celebrating Christmas. I just felt in the mood to play, which I hadn't a lot at the start of the pandemic. I went to my studio space and I started to think about how hard Christmas must be for people who don't have a home, don't have a lot of family, don't have places to go. Maybe they are living in a rooming house with a bunch of other people and don't have any decorations up. Then they look across the street and see a house that's fully decked out in Christmas regalia. I started to think about that and wanted to write a song about people experiencing isolation, like a lot of us were, but also had been experiencing that before the pandemic even hit." 

Jackson is now 20 years into a career that has included 11 well-crafted studio albums - 12 if you count the 2018 rock album she wrote and sang as part of the side project, Shipwreck Radios -  and a number of cross-country tours. Yes, Jackson is a prolific writer.  But even a cursory listen to any of those albums over the years reveals an artist who seems incapable of penning throwaway songs or academic exercises. To use an overused cliche, she writes with conviction and heart and the 12  albums showcase a consistency in quality that makes Jackson the sort of artist easy to take for granted. That includes 2020's Lionheart, an album that included The Sound Of Everything (For Leonard Cohen), a finger-picked gem with sax fills that pays proper tribute to one of her songwriting heroes. 2017's Follow That Fire was produced by the Cowboy Junkies' Michael Timmins and features Meet Me In the City, a gorgeous ballad sung with  Skydiggers vocalist Andy Maize and inspired by a dream she had about friends and local songwriters Paul McLeod and Mo' Kauffey, who had both recently passed away. Songs of Rain, Snow & Remembering was recorded with Teenage Fanclub's Norman Blake who helped bring  lush and occasionally orchestral backing to some of Jackson's most beautiful ballads. 
When it came to I Am Only the Moon, Jackson ended up recording through a pandemic. She began the sessions for I Am Only the Moon in December of 2020 and didn't put the final mixes together until December of 2021. As with Lionheart, Jackson opted to self-produce the record. But the songs are bolstered by the elegant contributions of a stellar list of musicians,  including Pal on piano and organ, Alison Corbett on violin and viola, Billy Nicoll on banjo and Shane Guse on mandolin. It may take a few spins for the listener to notice that the songs contain no bass or drums. 
"A number of people, I would say about six who played on the album, had the capability to play from home," Jackson says. "So they did so with my email direction on arrangements ideas and mood and maybe even sending each artist not just the description of what I had in mind but maybe a couple of sample songs for an idea of vibe. It's much more difficult to do things that way then to actually be in the room with them. It's a waiting process. You don't know what's going on everybody's lives, especially in the middle of a pandemic. You want them give everybody time." 
It may have taken some time, but Jackson secured all the musicians she wanted. That included Guse on the mandolin, even though he may be best known for his fiddle playing in the George Canyon Band. In fact, he been proclaimed the Canadian Country Music Association's Fiddle Player of the Year five times. But with Corbett and Wendy Wright, who plays violin on one track, Jackson already had those bases covered. 
"I thought 'How am I going to ask him to play mandolin?'" Jackson says. "I had already asked (Corbett and Wright) to play violin and we really needed a great mandolin player. He was cool with it. It was February 2021 and I was still working my part-time job. I knew musicians who played full-time were looking for work. I think those factors worked in my favour. He's just a world-class player." 
Guse and Corbett generate some old-timey heat on the lively I'm Awake. On the other end of the spectrum, Jackson showcases her talents for reaching emotional highs with pared down arrangements on No Direction Home, a melodic piano ballad. 
Jackson figures she had her first professional gig in 1998. Her debut album, Night Songs, came out in 2004 and introduced an artist with a knack for memorable melodies. She became the second artist after Shannon Lyon to sign with Busted Flat Records, a Kitchener label run by her future husband Mark Logan. 
But her roots as a singer-songwriter go back much further. Growing up in small-town Ontario -- she spent her early years raised by a single mother in Ingersoll and later moved to Lucknow with her mother and stepfather -  the first thing she remembers ever wanting to be was a singer. Her mother and stepfather would listen to a lot of mainstream country music. Kenny Rogers and Dolly Parton's duet, Islands in the Stream, was an early favourite for Jackson. There was no record store nearby, so Jackson soaked up inspiration from the local adult-contemporary radio station and her mother's somewhat limited music collection, which also included Linda Ronstadt, Steppenwolf, Cat Stevens, Tina Turner and Michael Jackson.  Jackson was living in Lucknow during her high-school years, a town that had a population of roughly 1,000 people. One day a neighbour visited and, either through forgetfulness or kindness, left a small bounty of old albums behind. 
They included early Rolling Stones, the Mamas and the Papas, Simon & Garfunkel, some early Beatles. 
 "I was so lucky," Jackson says. "She never asked for them back." 
Her parents would go out at nights and Jackson would stay behind, poring over and singing along with those old records. 
Still, Jackson remembers a difficult childhood and teen years. There was often trouble at home -- which she remembers as being filled with unfocused rage and bullying that was "difficult to deal with," she says. 
Poetry and music became a release. 
"To deal with stress that I was feeling as a teenager and all those different emotions, I started to write poetry just for myself," she says. "I think I had a poem published in one of my yearbooks. I started to drive to Goderich to take violin lessons. I was on a waiting list for four years. In Lucknow, there was not a lot of options." 
Initially, she thought she would play classical violin as a career and was eventually accepted into   The University of Ottawa based on an audition tape. But she found that she was at least two years behind in music theory and opted instead to major in English Literature. She attended university of North Bay and Ottawa and later went to community college to study journalism in Kitchener. In her early 20s,  an uncle gave her a cheap acoustic guitar and she began writing songs and attending open-mic jams. 
After 20 years singing, writing and performing, Jackson looks back at her output as reflective of her days in small-town Ontario, where she made a decision in her early teens not to be a "shrinking violet" in the face of a troubled upbringing. 
"A lot of people, as they grow older, they go through sweeping changes in the 20s or 30s or 40s or whatever," she says. "I can say that my personality was pretty much crystallized in my teen years from living in my house with my mother. When you listen to my songs there is a lot of my personality on those songs. I've grown and hopefully gotten wiser and more diplomatic as I've gotten older and had more life experience. But my basic personality was formed in those years. When you listen to my songs, it was mostly about the freedom to express myself and trying to find my own voice. In the early writing that I did and early songs that I released, it's about finding my own voice independent of what anybody thought at that point."
March 18, 2022

Happy Spring everyone ! 
I'm happy to announce that after a year in the making, my new album I Am Only the Moon is officially released today ! 
The album features a talented cast of local musicians and pals adding beautiful rootsy accompaniment to my 12 original songs I wrote over the course of the pandemic. 
With few gigs happening over the past while, I kept myself musically involved by writing, arranging and recording this new batch of songs and brainstorming on which wonderful players I would put with each song. I kept the arrangements light and simple, with no drums or bass. And I convinced the talented (and comical) Chris Boyne to hit the studio with me to record two Magnolia Electric Co./Jason Molina songs live in the studio as a duo. 
I worked on a video for the title track (also released today), which features brilliant guitar work by our own Rob Deyman (Waterstreet Blues Band). I got Rob to shoot some footage for me and combined it with my own and included some paintings I've done in the past few months. Painting is a new passion I've picked up over the past couple of years and I'm experimenting and having a great time with it.  You can watch it on the video page !
The CD version is available at Encore Records in-store or on their website for order. The album is also available for sale/download on my Bandcamp page and Busted Flat Records Website and Bandcamp page. Please note, the two Magnolia Electric Co. songs are ONLY available on the CD (not via download) due to licencing restrictions. 
It's been a tough time for musicians, music venues and businesses in general over the past couple of years. The loss of our Starlight club in Waterloo was a biggie. I am working on ideas to eventually hold an outdoor release show. Stay tuned for details. 
In the meantime, enjoy the great weather as it warms up and drop by the website from time to time and check out the new 'Artwork' section, as I slowly add new pieces to the collection. 
Cheers everyone !
December 3, 2021

Hi Everyone !
I'm excited to let you know about my new album !  We've been working on it over the last year and a half, restrictions permitting and it's finally off to get mastered ! 

The first single from the album is released today !  The song is 'Christmas In The Dark', my first 'seasonal' song !   It's a reflection on how the holiday season is often difficult for some people (especially the last couple of years).  All the proceeds from any sales are going to be donated to St. John's Kitchen in Kitchener, Ontario to help with all the good work they do !!

'I wrote this song on Christmas Eve 2020 and was thinking about all the people who are isolated or struggling during the holidays. The holidays can be rough. Please consider buying the digital single with all the single's proceeds going to SJK so we can help them help others. Happy Holidays !'
Lynn

It's available on most streaming services, iTunes, the album page on this site and my Bandcamp page !!


August 11

I've just posted a new video for 'Cobwebs'.  
Rob Deyman, Scott Fitzpatrick and Jonny Sauder all filmed their parts in isolation and I put it all together with a nod to Bob.  
I'm really happy with how it turned out !!  
You can find it n the video page or check it out on my Official You Tube page.
Feel free to subscribe if you are so inclined !
June 11
Hey folks !
Just wanted to let you know my new video Stormy Eyes off of Lionheart is officially released today !
It was my first time shooting a COVID-19 type video - with just the 3 of us distancing in the video, shot in mid March when all those restrictions were just brand new !  It's a humourous little video for a song with some heavier themes - that was on purposes to give the visuals a little levity ! Check it out on the VIDEOS page now ! Or check out this link ! Thanks so much for listening ! Be well !
  
 June 2
It's always a little nerve-wracking releasing an album and then waiting to see what the response is. Hoping that what you've created touches a listener in some way. 
I received a beautiful message today from Chris Connelly (Ministry, Revolting Cocks, Cocksure, Finitribe and many other groups). He sent his 'review'of the album for me to share. 
"It's unusual for me as a person who writes songs to find really strong musical connections, connections that are more than the usual, lovely things that unite us as artists ( and I am eternally grateful for that) but, when someone's song bypasses your ears and just passes gracefully into your soul and your history, then, it's time to get excited and say THERE IS SOMEONE ELSE ON THIS ISLAND !!! 
Oh yes, it's happened for me with those amazing and incredibly renowned writers, that helped write the BOOK, that we grew up with, Leonard Cohen, Dylan, John Martyn, Nick drake, Lou Reed.Patti smith, Joni, (it's a long list) But someone doing that now? Oh, they are out there, yes, of course they are, but it can be needle in a haystack stuff….. 
Lynn Jackson is such an artist, and she has a new album out, "lionheart", a beautiful journey, a gritty journey, her heart grips her voice with an iron hold, steers it to the places it has to go, and it steers it to the places it maybe doesn't want to go, and it's always, so, so heartbreakingly HUMAN. I have done this for forty fucking years, I KNOW when I hear a soul sing, and I know when I am being lied to as well. 
I know I will always write, and knowing that there is a LYNN JACKSON out there makes me feel cosily self righteous and completely vindicated. " 
Thanks Chris !
May 15

Thanks to Terry Pender at the Waterloo Region Record for a really nice article about the new album.
You can read the story here.


May 1st

Happy May Everyone !
Life has been busy ! I've just finished a brand new album, number 11, called Lionheart !
The album will be officially released on Busted Flat Records on May 22,2020 !
 It's been a labour of love this project - Recording started in December 2018 and wrapped up in late 2019. Lionheart features a mix of folky fare with straight-ahead loud rock ! One of the ballads is a tribute to Leonard Cohen - one of my all-time favourite poets and songwriters. What a talent that has left us - btw his posthumous album is amazing! Highly recommend.

Lionheart will be released online and will be available locally at Encore Records in Kitchener.
It's now available for pre-order physically OR digitally on my 'Albums' page.

The album release show was to happen Sat. May 23 at The Starlight club in downtown Waterloo, but that has been cancelled for the time being.  We will look at putting something together later in the year once it is safe to do so !
And last but not least, be sure to sign up for my mailing list to be the first to receive any news as we have it !!
Stay safe out there !

Lynn